And this, ladies, is why I've been avoiding posting full FOTDs lately – look at the fackin' horrible bags under my eyes and my skin breaking out.. blah :( you can tell I've really not been getting enough sleep lately.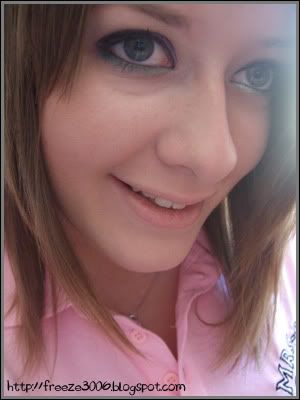 So anyway, I gave that Barry M matte eye crayon a go today for work (I fight the no-nail-polish rule by wearing bright colours on my eyes. hah!) – I actually really like it – unlike the shimmery crayons from Barry M this one really doesn't crease for about 7-8 hours provided you have a bit of UDPP on underneath and offers brilliantly smooth colour payoff. I teamed it with bluey-green on the lower lashline for a colourful EOTD.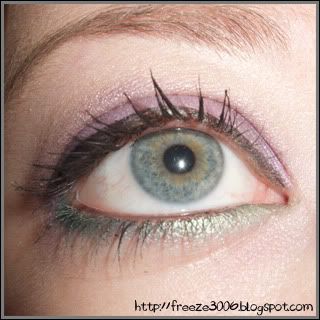 So, after applying UDPP, I coloured in my lid with Barry M matte eye crayon in Purple and blended it with my finger, just up to the crease. In the inner part of my crease I blended the edge out with Barry M Dazzle Dust in 31 Lilac, and the same on the outer part with Illamasqua Pure Pigment in Involve. On the lower lashline I used Too Faced eyeshadow duo in Fantasy Island, obviously the lighter colour on the inner corner and the darker colour on the outer part. My trusty Maybelline Line Definer in black lined my upper lashline, then Maybelline Lash Stiletto to finish. Easy peasy!
And also, while I'm here – I did this pink look a few days ago to catch the end of Breast Cancer Awareness month, but I totally forgot to post it and now it's the second of November… better late than never though right?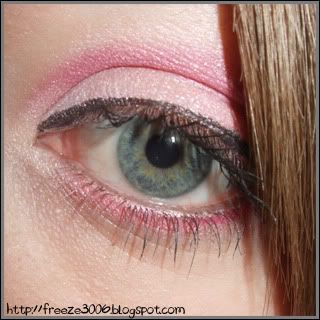 As always, UDPP to begin with. I used Rimmel Colour Loose eyeshadow in Satin on the inner corners of my eyes – I really hate Rimmel. Haha. Anyway, over the rest of my lid I used Flamingo by Beautylicious Cosmetics, then I blended Barry M Dazzle Dust in 64 Fuchsia into the crease. Same liner and mascara to finish. Again, easy – where's my creativity gone D: on the lips with this look I wore an amazing pink lip combo which unfortunately I couldn't get an accurate picture of. If you're interested though, it was Maybelline Color Sensational lipstick in Summer Pink and Bourjois Effet3D Cosmic gloss in Rose Symphonic. I'll see if I can't get a good picture of it some other time though, they look GORGEOUS together!
In other exciting news, it looks like Lisa Kate and I are going to be doing a sample swap :D more news coming when its confirmed! Hehe.
What did you wear on your eyes today?