A few people have said they don't mind my constant ramblings about nail polish lately and are more than happy to look at pictures. Having said that, you are totally welcome to skip over this super quick post if you're getting annoyed with it! Haha.

Just wanted to show you two more Konadicures (I really need a shorter word for that – anyone got one?) I've done this week!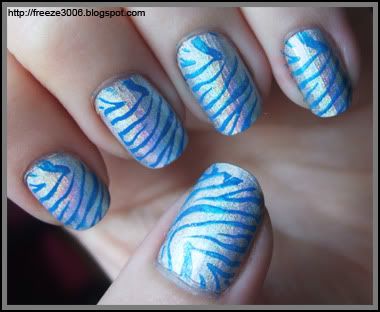 This one is GOSH Holographic with Konad special polish in blue and plate M57. Look at the tip of my thumbnail from where my thumbnails are just a couple of millimetres too long! I can't get the hang of the whole double-stamping thing to combat this though, I'm sure double stamping is a million times easier on longer nails. I love the GOSH Holographic polish and I can't wait to compare it to China Glaze OMG when I get my package from Brooke (which will hopefully arrive early next week or something), but I hate that you need a topcoat with Konad because topcoats kill the holo effect. :(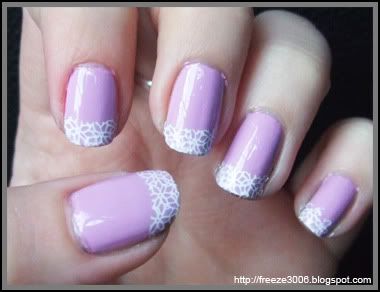 I did this one on Tuesday morning, it's now Thursday morning.. longest I've kept the same nail polish on in about a month! Haha. If I wasn't ill and busy sitting around blowing my nose and feeling sorry for myself I'm sure I would have changed it by now out of boredom but I quite like this one, just gotta get the hang of stamping the French tip designs evenly. This is Collection 2000 Hot Looks in Dynasty with Konad white special polish and plate M56.
Hope you're all doing good!