A super quick blog post (so it's not gonna be weighed down by a TON of writing like my posts normally are, haha), I'm getting ready to go stay at Colin's for the weekend so I probably won't be around at all.

Anyway, I just found out that Lauren Luke is doing a book signing at Selfridge's today.. I'm gonna be passing through Oxford St anyway so I'm tempted to hop off the tube and go see how long the queue is. If it's not bad I may actually go get her book and meet her :D that would be awesome. And I can ask her why Sephora and the USA is more important than the UK for stocking her products D

This was the first one I did, 'cause my nails were already painted that colour so I just wanted to start stamping straight away haha. It's Collection 2000 Hot Looks in Intense, Konad special polish in white with image plate M57 :)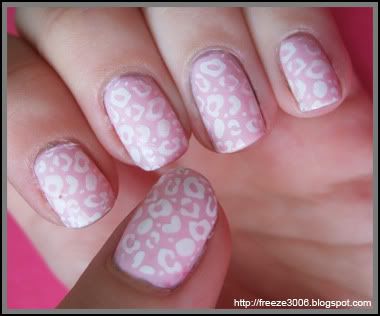 And this is what I'm sporting right now, so tacky but I love it :D Eyeko Pastel Polish, and the same Konad polish and image plate. Yay!
Anyway I'm off. Hope you all have a gorgeous weekend! xo