My Konad order from OCNailArt arrived this morning! I practically ripped it out of the postie's hands and tore it open. YAAY :D

..That was about 3 hours ago, and I haven't been able to play with it yet ;_; Why? Because I have a job interview later this afternoon so I didn't want to start messing around making my nails crazy, haha. But it's KILLING ME! So I figured I'd keep myself happy by taking a picture for you guys and writing a quick blog before I overload you with tons of Konad pictures over the coming weeks :)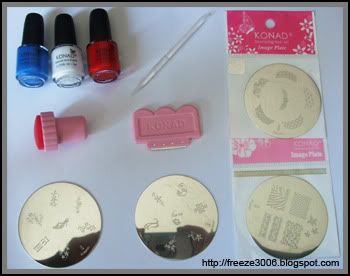 I got the ST kit, plus two extra image plates. The ST kit included the stamper and scraper (although I think I will heed the advice of other nail bloggers and use an old plastic card to scrape rather than the metal scraper as I don't want to scratch up my image plates), three special nail polishes in blue, white and red – these are only 5ml which is kind've annoying, they're tiny D: but never mind. Also included are image plates M4 and M9, and a bunch of little silver, blue and pink rhinestones. The rhinestones were just packaged in a little dip in the plastic of the box so I couldn't keep them there, I just put them all in an old film canister where I keep my other gems and rhinestones. :) The other two image plates which I ordered are M56 and M57.
I must say I had an excellent experience ordering from OCNailArt, the owner Kathleen is lovely. I ordered these last Wednesday night and I received a shipping notification and a tracking number within the hour, and they didn't take long to arrive at all considering they came all the way from California. And let's not forget that international shipping from OCNailArt is FREE on orders over $20! I don't know if Kathleen does this on all of her invoices, but it definitely made me smile. Dawww!
Well, I'm gonna go and get ready for my interview now. Wish me luck!