I know I'm a bit late with this one, but I've been meaning to try this mascara for ages and just never got around to it. I first tried Eyeko back in May when I got a whole bunch of stuff for just a tenner at MCM Expo (I am secretly a nerd) and have been intending to try their mascara ever since. I don't know why it took me so long.

I'm a sucker for cool looking mascara brushes (so why I haven't tried Phenomeneyes or Telescopic yet is beyond me – I just have too many mascaras, okay?). As you probably already know, Eyeko mascara comes in a squeezey tube which is certainly a plus point as it will reduce product wastage – and I did notice the amount of product you get is actually quite a bit; 8.5ml to be exact. Most mascaras, including Maybelline's Lash Stiletto and Pulse Perfection are usually only about 6.5ml. The mascara with the most product I've ever come across is Maybelline Colossal at 10.7ml, but owing to the funny shape of the tube I doubt anyone's ever really used it all. But I digress!

Eyeko packaging has always got a big thumbs up from me for cuteness, but not always functionality. For example, their cute-as-a-button nail polish bottles with the massive necks aren't entirely practical for klutzes like me who are prone to knock things over. And their lipgloss tins are adorable but seem to leave hygiene to be desired. I definitely can't complain about the mascara packaging, though! Anything that minimises waste of a product deserves kudos. Can you imagine is Urban Decay put their primer potion in a squeezy tube like TFSI? That would save so much time with that cutting bottles open malarkey. I'm rambling again!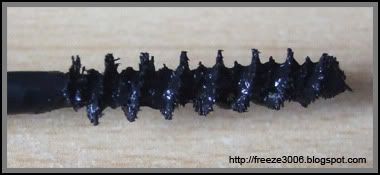 Definitely an original looking brush, right? So, how does it perform? They say it's "Designed to prevent dryness, premature breakage and to promote lash growth." – well, that the dryness prevention claim makes sense owing to the vitamin B in the formula, but I can't back it up I'm afraid. I actually found it made my lashes feel a little bit brittle and flaky after a few hours.
Unfortunately this mascara also seems to work best with just one coat – it wasn't particularly lengthening or volumising I don't think, but the first coat seperated nicely. Because the formula is so creamy (and supposedly nourishing) it takes a bloody ice age to dry, but once it did dry I thought I'd try and amp it up with another coat – wrong move! Clump city :( I managed to get most of the clumps out with a clean spoolie though. Also, the second coat seemed to make it really heavy and it definitely weighed my lashes down and they lost all their curl. :(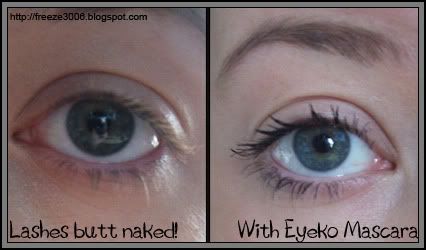 Overall though, there's something about this mascara that I just really like! I'm going to persevere with it, perhaps I've just not got the hang of the brush yet. I can't fault the product really, as I've seen plenty of rave reviews on it – I guess what works for some, doesn't quite so well for others!
I'm definitely going to pass on Eyeko's new mascara though – have you seen it? 'Eyeko Magic Mascara' – Check it out here. Now call me cynical, but there doesn't appear to be anything magical about that! Okay the packaging is pretty once again, but I can't see this one being a big seller. Mascaras really, REALLY need a unique selling point nowadays, and Eyeko's original mascara ticked that box for the funky brush and squeezy tube – but what's special about this new 'magic' one? Ah well, I'll wait until someone reviews it and if it really does make the angels sing perhaps I'll give it a go. They're taking the mickey a bit with the price though I think – currently at in 'introductory price' of £8, which will be raised to £9 after the 10th of October? No thanks!
One other thing about Eyeko – WTF is up with the price differences instore/online? I bought my mascara (well, the boy did) for £4.99 in Superdrug – it's £6 online. The nail polishes are £3 each online, £1.95 in store, etc etc! Admittedly though they do ship worldwide for free so I guess the price differences compensate for that.
What do you girls think of Eyeko?