As you are probably aware, I'm supposed to be a self-imposed ban on buying makeup. In light of that, I started buying a shitload of nail polish so really I wasn't saving myself any money at all, but I know I just don't have to willpower to stop buying BOTH.

Anyway, I was in Romford today and accidentally bought a few things. BUT I only spent £9.50! I can be an excellent bargain hunter when I want to be.
I always have a little look around the FACKIN' FILTHY cosmetic baskets whenever I'm in TJ Hughes. I don't know why because they really are disgusting. They had Stila lip glazes in this time, and a couple of Urban Decay eyeshadow singles (I especially liked the look of a matte grey one, unfortunately I can't remember what it was called) but I can't ever bring myself to buy anything from those baskets because everything's been opened and touched by god knows who and everything's filthy dirty and ugghh.
The nail polish baskets are normally much more pleasant to rifle through as there's no eyeshadow all over everything getting your hands dirty, or rogue bits of sticky lipgloss you need to avoid. It's normally hard to find gems in there but this time I waltzed off with the three above for just £1 each. Wahey! The first two are 'NYC Nail Glossies' – I've not seen these on the NYC stands in the UK so I wonder if they're US items? Or maybe they're just reeeally old, haha. They don't have colour names, the numbers are 245B (I just needed a plain black) and 249B. The other one is a Rimmel Lasting Finish (I never see these any more either, I guess they've been discontinued which is a shame 'cause I liked the formula of these ones) in Underground, a gorrrgeous amethyst sort of colour. NYC 249B though is absolutely AMAZING. It's impossible to capture it's true colour on camera (especially with no natural light – it was dark but the time I took the picture above) but it's this impossibly beautiful purpley-burgundy shot through with gold shimmer and I LOVE it! I have a feeling purple and variations of it are going to be 'my colours' this A/W season. Mmmm. Here's a slightly better picture of 249B, much more accurate than the bottle pic but this still looks a lot more red than it really is.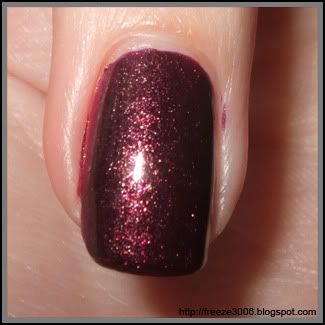 I always look on cosmetics stalls at markets to hunt for good brands at knock off prices and I've had a few good finds from this one particular place in Romford. Today though I just got a tiny cute little vial of NYX 'Glitter Mania' in Gold, it's as the name suggests – just a loose glitter. I didn't have a real reason for buying it, I just felt in a sparkly mood! That was £1.50. Then a while later in Debenhams, I was mindlessly browsing through their Christmas gift sets (and displaying excellent self control by not going anywhere NEAR the high end counters) and went for this box of 5 glitter eyeliners for £5.
I've never really wanted glitter liners before because I'd always imagined them never to come out opaque and gorgeous like they look in the bottle, but rather just sparse and messy looking as coloured glitters in a clear base. It turns out I was right!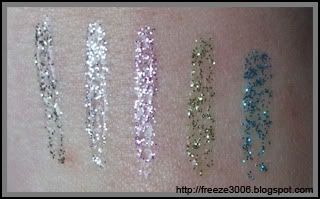 However, I was determined not to have wasted a fiver! I decided to try layering them over regular liquid/pencil liners of the same colour. Now THAT'S better! ;D The vertical gold line is that NYX loose glitter over Illamasqua Solstice liquid metal.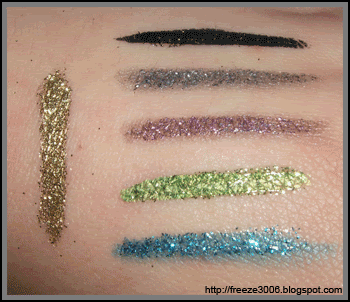 So yeah, I'm feeling very sparkly now! I'm certainly gonna try some glittery eye looks now. Very fit for the fast-approaching festive season, no? :D
OH OH and before I go… I did a full mani with that gorgeous NYC polish and Konad-ed over it with Rimmel LycraPro in Posh Trash using plate M57. Just you TRY and tell me this isn't too sexy for it's shirt!