A couple of posts back I told you about a one-weekend-only offer that Eyeko had on their website, where you could get all 6 of their nail polishes for just £5.40. These actually arrived on Thursday, but I loved my recent leopardprint mani too much to take it off as I knew I'd be going away for the weekend!
So I finally got around to taking a look at my package this morning. For some reason I got two free gifts instead of one :) haha, not that I'm complaining. Of course I also got the postcard that comes with every order, and along with that I got one of their Face Off makeup wipes. The other free gift isn't one of Eyeko's products which I was slightly confused about – it's by 'Beauty Rehab' and it's just a little tube of a rose scented salve which according to the box can be used for a myriad of things such as softening dry skin on lips and face, to soften cuticles and tame split ends, to protect your nose from symptoms of cold and flu (why couldn't I get this a couple of weeks ago? The cold I had made the skin around my nose all flaky for a few days D: eww! haha). I've used it as a lip balm a few times but it's kinda oily and doesn't seem to keep moist for very long so it's kinda useless. I certainly wouldn't put it on my face or the ends of my hair due to it's greasy feeling, although I might give it a go as a cuticle softener next.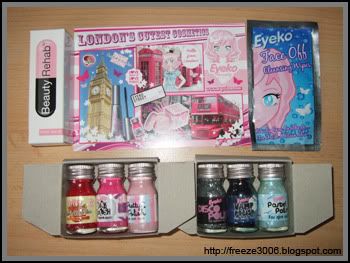 I have a confession to make… the polishes didn't come in their little boxes in that particular order – I HAD to rearrange them to have pinks/red in one and blues/silver in the other! Haha, what can I say, I'm a bit OCD with things like that. Anyway, swatchy time! :D All swatches are with two coats unless otherwise noted.
It seems that Punk polish is a little brighter than Barry M Shocking Pink, I'll have to do some comparison swatches in the near future. The formula's pants as usual with Eyeko polishes but I can't argue with the colours! I've loved Pretty polish for ages, I actually kinda think it looks a bit like OPI Mod About You – I've never had an OPI polish but that's just judging from swatches I've seen. It's a shame I don't really like wearing red polish as the formla on this one is actually lovely! Perhaps I can learn to love it. I'm hoping to use Punk polish for a little Konad experiment soon – Jacie and I discovered that Pastel and Pretty polishes work great with Konad so there's no reason that Punk polish shouldn't, and I've had the biggest urge lately to do a bright yellow and pink Konadicure :D (clinging desperately onto the summer, it seems) but I don't have a bright yellow. Yet! I bought one (Barielle Lemon Drops) in Rowena's blog sale the other day so fingers crossed I get to try that out soon!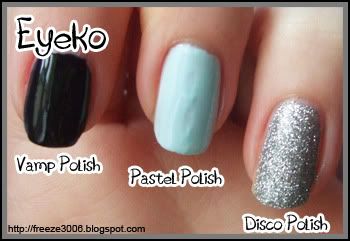 This is a crappy inaccurate picture of Vamp polish, it just looks flat black in this picture but I promise it's dark blue! Haha. It's very nearly black though, perhaps a little more black than I'd like (I'm particuarly fond of Maybelline Forever Strong Midnight Blue) although the formula is surprisingly good. I have a real love-hate relationship with Pastel polish. It's probably one of my favourite polish colours of all time (this is my second bottle of it) but the forumla is the WORST. It's difficult to apply, it takes quite a few coats to reach bottle colour (this is 3 coats here, although I guess you could say 4 'cause you might be able to see in the middle of the nail there's some scratch marks from where I scraped it against my desk before taking a picture and hastily slapped another coat on to cover it up). And it's horribly streaky! But persistence is key with this little bastard 'cause it's such a lovely colour. As for Disco polish.. can I hear a WOW?! :D I'm not usually a big fan of glitters 'cause sheerness drives me mad but this is totally opaque in two coats. It's pretty thick but by no means gloopy or hard to work with, and it's not nearly as much of a bugger to get off as most glitters are. BIG thumbs up for this one, Eyeko!
Did anyone else order these? What do you reckon? :)
Coming up next – CHINA GLAZE POLISHES FROM BROOKE! AT LAST! :D