Okay so I've been dying for someone to tag me to do this one for AGES XD I can never bring myself to do awards or tags when people say 'I tag everyone!' at the end. So thanks lots and lots to Nati for naming mine as one of her 10 favourite blogs! ^___^ *Proud*
I know I'm probably one of the last people in the entire world to do this one but just in case you don't know, the point of this one is to list 10 facts about yourself, then list 10 of your favourite blogs to tag. Here goes! 10 things about me ;D
1. I have 3 A levels.. but I didn't do nearly as well as I could have done because I'm a terrible procrastinator. I have a B in English Language, and D's in Photography and Sociology.
2. I hate my hair. No matter what I do with it or how often I get it cut it's so unmanageable and thick.
3. I'm a UK size 14-16, and I'm fine with that. I have HUGE boobs to make up for it XD
4. The only games console I ever play is the original Playstation. I've just never been able to enjoy anything newer than that!
5. I'm very, VERY impatient with myself because I can be a very slow learner.
6. I love horror/supernatural movies with lots of spooks and gore ;D but I love Disney movies as well. And by Disney I mean the classic animation, not all this Hannah Montana shit.
7. I'm only 18 but I get massively broody all the time. All I've ever really wanted is to be a wife and a mum.
8. I can't watch anything with David Mitchell in it, he creeps me the hell out. He REALLY looks like a paedophile. Sahrry.
9. I feel like I have a terrible fashion sense.
10. No matter how cold it is, I can't sleep with socks on. Hence my general lack of sleep in winter! If I wear socks in bed I can't sleep, but if I take them off it's too cold to sleep. *Siiigh*
Done! I'm afraid I haven't got the motivation to go through ALL of the blogs I follow and find people who haven't done this yet to tag, so I'm just gonna name 10 blogs that I love off the top of my head and I apologise if you've already done it!
1. Foshoozley
2. MissDollyGal
3. Girl With The Golden Touch
4. Emma/Evilblackpixie
5. Let There Be Shopping
6. The Puff Reports
7. Sparkle Is My Crack
8. Aquaheart's Obsessions
9. Peluxe
10. Hell Candy Make Up
Yaay!
And while I'm here… this morning I tried to recreate Katy Perry's makeup from the VMA's – I didn't watch it, we don't have Sky anymore but I had a good browse through the pictures that Temptalia uploaded. Whenever I try recreating someone else's look, I try to put my own spin on it. I don't always succeed XD
You can see the picture I used here. She's wearing a coral lipstick there, but she wore a red lip when she performed later on.
And here's what I came up with: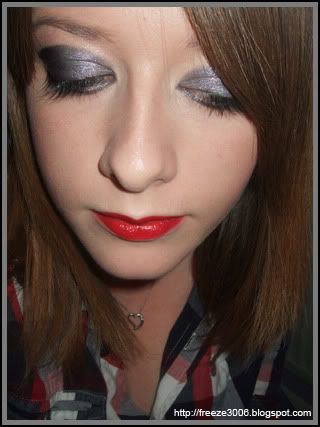 Not quite as glittery as Katy's!
I started by buffing Maybelline Pure.Foundation Minerals (Vanilla Rose) into my skin – this mineral foundation gives surprisingly good coverage! I used Maybelline Dream Mousse Blush (Peach Satin) on my cheeks, which is a dream to apply but it should be set with a powder – I used 17 Loose Powder (Fair).
I primed my eyes with UDPP, then applied tape along the outer corner of my eyes to the ends of my brows to ensure a sharp line. I drew in the shape I wanted for my make-up with NYX Jumbo Pencil (Black Bean) on the outer part of my eye, and The Body Shop eyeliner (Shimmering Steel) on the inner part. I filled in the shape with both of these pencils, smudging and blending them together in the middle. I set these creamy bases with Maybelline eyeshadow (Black Metal) and Second Place by BeautyliciousCosmetics respectively, blending them in the middle again. I also ran these eyeshadows along the lower lashline. To add some glitter and a pinky purpley sheen, I patted Illamasqua Pure Pigment (Static) over my lids. I lined my upper lashline with GOSH Extreme Art Eyeliner (Black) and added two coats of Diorshow Blackout to my lashes. I'm also wearing a pair of no-name brand lashes.
Because of my pale colouring, I can only pull off red lipsticks that are blue based. To achieve an even cooler red, I smudged a little Maybelline Kohl Express liner pencil (Blue) onto my lips before applying Maybelline Colour Sensational (Fatal Red) over the top.
^_^;;