A few posts back I said I wasn't gonna buy aaanything else until I found a new job because my supply of money is rapidly diminishing. I was doing really well for a week, I even resisted Urban Decay's Book of Shadows vol II which I REALLY want.

It appears, however, that my body and my rational mind are working in two different directions. Yesterday, my feet found themselves wandering casually into Charles Fox. My hands found their way to the Kryolan Shades palettes and my eyes were certainly lusting after them. Then the next thing I knew, I was walking out of the store with two new palettes and £31.90 less in my bank account.

Woops.
Here they are – Berlin and Abu Dhabi.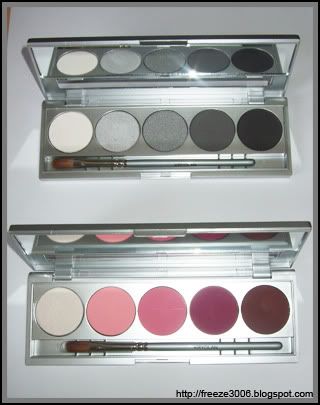 One thing I've noticed with these two palettes that I didn't notice with Santiago is that the texture of some of the shadows is a bit off compared to the rest – a few are kind of hard (namely the whites from both palettes, and the fourth colours from both palettes) and it's not easy to get much colour onto your brush with them but I think persistence is key because the colours are wonderful. Most of them are really soft and almost creamy feeling (like all the colours in Santiago). So, swatches? ;D I think so. All swatched dry with no base.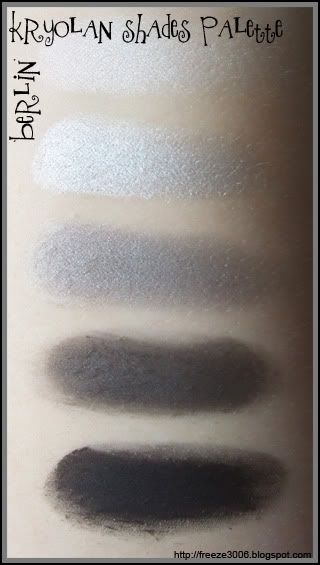 I don't actually have much in the way of silvers/greys/blacks so this one has got me set for dramatic smokey eyes. My two favourites in this palette are the light silver (2nd from top) because it's so soft and shimmery, and the matte black just because I don't have a decent one and the texture and colour pay-off with this one is brilliant. That's another thing I love about this palette in particular – they're a good mixture of shimmers and mattes unlike Santiago which is all shimmer and Abu Dhabi which is all matte.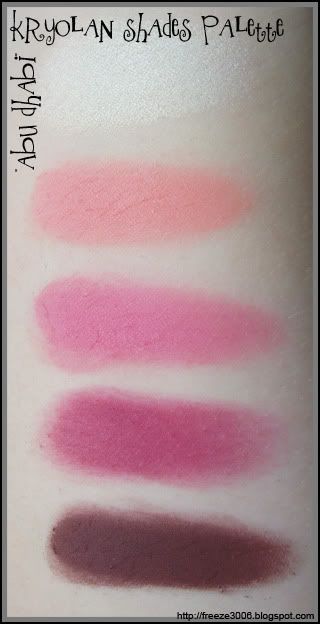 I did think the whites in both palettes were identical in the pans but when I swatched them I noticed the one from Berlin was more of a plain frosty white but this one has a lovely pinky-gold shimmer through it which I love. My favourite from this one is easily the dark burgundy/plum/aubergine/whatever colour at the bottom. I have quite literally hundreds of eyeshadows but I don't think I have any that are quite like that colour. I actually already did a look with this palette this morning but I can't do a full FOTD because I've broken out again (having trouble figuring out the culprit – probably too much crap food lately) and try as I might I just couldn't get decent eye-only pics! To sum it up it features the top colour for inner corner and highlight, mixture of second and third colours for lid, fourth colour in the outer V and crease, fifth colour to darken the fourth and along the lower lashline, all topped off with some Illamasqua Static pigment for sparkle. ^_^;
So yeah uhm.. my bad. Oh Charles Fox, lead us not into temptation. D: