First of all, I'm so pleased with the amount of entries I've had into my giveaway. Keep entering, girls! :) Thanks so much.
My prizes finally arrived :D It was the first giveaway I ever won. I know I mentioned it in an earlier post but for the benefit of any new followers, Beautylicious Cosmetics is a small company run by a lovely girl named Jessica Klassen in a little village near London, Ontario (Canada). If you want to see all of her products, her website is www.beautyliciouscosmetics.com and you can also check out her YouTube channel, where she shows you how to create tons of different looks using her mineral eyeshadows. She's also currently developing some blushes and bronzers, so keep an eye out :)
As you can see in the picture above, I won four full-size pigments (5g jars with sifters) and four sample baggies (approx 1/4 tsp). Here's a better look at the colours I got: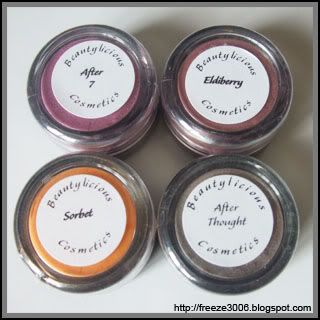 I picked all of the colours I wanted, and I don't know why I picked both After 7 and Eldiberry 'cause they're pretty similar looking haha. But nevermind, they swatch quite a bit differently to how they look in the jars. On with the swatches! These are all just swiped once, dry, onto my forearm, no primer. I'm really, really impressed! They're very highly pigmented with plenty of shimmer, I'll definitely have to try foiling these. Bear in mind this is with NO primer whatsoever!
I actually love the bottom three colours, once I've taken these shadows for a proper road-test (for creasing/fading and how long they last etc) I might have to buy full size jars of those. And Second Place makes a much better replacement for my Barry M Dazzle Dust in Pale Silver (09) because that is so crappily pigmented. I think my favourite from these four samples is probably Sublime, I don't own any greens like it.
In these swatches, it's easier to tell the difference between Eldiberry and After 7 – Eldiberry has more of a burgundy undertone to it and is almost a perfect match for Barry M Dazzle Dust in Winter Berry (88), whereas After 7 is more of a bright purple. I love Sorbet, again I don't own any colours like it. But my favourite one in Afterthought; the swatch does it NO justice, it's an amazing taupey sort of colour, but what's particularly impressive about it is that it just looks like a darkish silver in the jar but when you apply it to the skin, brown undertones magically appear and ohmygod I love it so much. Haha :) I think it'll be great for autumn/winter smokey eyes.
Here's the swatches again with flash.
So my first impressions of this brand are brilliant! I can't wait to test these out properly, and of course I'll let you know how it goes. The only thing I wish I could do was remove the sifters – I HATE sifter jars for eyeshadows haha but I can't seem to remove the sifter like I've done with most of my other loose shadows. That's only a small compromise to make for all the positive points about these shadows. Thanks Jessica! xo
Have any of you tried Jess's products? D'you like the look of them? :)