As I'm sure anyone else in the UK will know, Boots' budget brand, Natural Collection, is 3 for £5 across the entire range (this is a permanent offer). Whilst in Boots a few days ago, I decided their clear nail polish would become the perfect ingredient for a little experiment.

Maybe I'm a little late jumping on the pigments-as-polish bandwagon, but all the blogs and videos I've seen of people doing it have just entailed mixing a bit of clear polish with a bit of pigment on a flat surface and painting that onto the nails.. but I could just see it drying up on me half-way through (I take my time painting my nails), so I thought if I'm gonna do it I'm gonna do it properly! So, I bought 3 of NC's clear nail polishes for a fiver, laid out a sheet of paper for inevitable spills and set to work with three of my Barry M Dazzle Dusts (one's a Fine Glitter Dust actually, but whatever). And here's the results!
From L-R I used Winter Berry, Old Gold and Midnight. I own a LOT of nail polish but I don't actually own many dark colours, so these (particularly Winter Berry and Old Gold) are perfect for the A/W season. I can't believe how well they came out, too. My camera had trouble picking up the sparkle, but take my word for it that these look wonderful. These are all 3 coats – they do need a bit of building up, but it's worth it.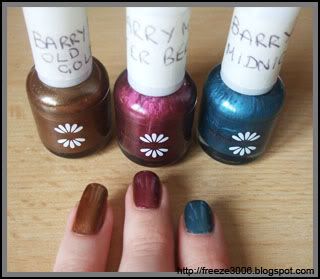 All I did was use a tiny spatula (aka the end of a pair of nail clippers) to scoop some pigment out of the jar and tip it carefully into a clear nail polish. Mixing it up requires a LOT of shaking! Then obviously you can add as much pigment as you like to get a more intense colour – but I'd imagine that putting too much in would cause the polish to thicken and get all gloopy. And one other thing to bear in mind – each time I go to use one of these new polishes it's going to require LOTS AND LOTS of shaking up again to get it all mixed up evenly. But I think the effort it worth it because the finish is amazingly reflective and sparkly :) and it's a great way to actually get through jars of loose pigment, 'cause we all know it's next to impossible to finish a whole jar.
Have any of you made your own polish with pigments? What did you use and how did it turn out? I'd love to know :D
I'll leave you with my FOTD – I gave Revlon Colourstay foundation a whirl today, and I'm already LOVING it!: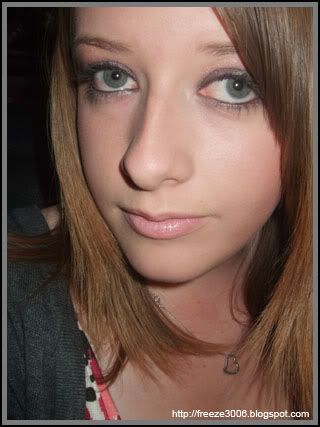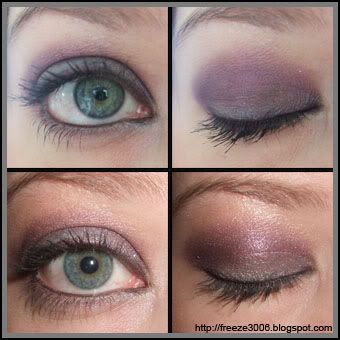 Products Used
:: Revlon Colorstay Foundation (150 Buff, for Oily/Combination skin)
:: 17 Loose Powder (Fair)
:: BeneFit Coralista blush
:: Bourjois blush (Rose Frisson)
:: UDPP
:: NYX Jumbo Pencil (Black Bean – smudged onto lids as a base, used later in waterline and on upper lashline)
:: Beautylicious shadows (Second Place on lids, Eldiberry in and above crease and along lower lashline)
:: Barry M Dazzle Dust (88 Winter Berry – blended into crease and outer V, then again later smudged over black liner on upper lashline)
:: Illamasqua Pure Pigment (Furore – to brighten up tear ducts and as brow highlight)
:: No7 Dream Lash Mascara (Black)
:: 17 Va Va Voom Mascara (Black)
:: No7 Perfect Lips pencil (Nude)
:: Natural Collection moisture shine lipstick (Apple Blossom)
:: Barry M lipgloss wand (Number 4)
Would anyone be interested in a more in-depth comparison of Revlon Colorstay vs Maybelline Dream Satin Liquid? Obviously if so it'll have to wait a week or two so I can see how Revlon holds up in different weather conditions and if it breaks me out or not… :) Let me know!
xo