Okay so today has been a total OVERLOAD of awesomeness for my blog and I. I don't even know where to start! Haha :D

The most exciting thing that happened today was receiving an invitation to the Maybelline bloggers' event on the 10th of September – this is largely thanks to VexintheCity (Thank you!). Let me know if you're going! I'm so excited but nevous too.

Another awesome thing that happened today was getting a mention from a wonderful lady named Brooke, owner of Getcha Nails Did – suddenly my followers have jumped up! Haha, so hello to new followers :)
This does unfortunately mean that my upcoming giveaway may need to be postponed a week or two; Due to my mention on Brooke's blog (which I'm very thankful for!), I've suddenly jumped to 74 followers and I've only got a couple of little things sorted out for the prize so far – I was expecting to have a week or so to collect things together! But I promise you all I'll host a giveaway within the next few weeks.

Seriously though.. *drool* I've been wearing a lot of brown/gold eye looks lately and this is exactly what I need to get out of my little rut. I like to think it will make my blue eyes more piercing, too. *Makes incoherent noises of desperation* NEED! Does anyone know when Dystopia comes out, by the way? I know all products from the collection will be available to pre-order from Illamasqua's website from the 3rd of September, but I've searched high and low for a date that it hits stores (I much prefer to buy in person) and I haven't had any luck :(

And here's another something you might enjoy – Lovehearts and Crosses, a little online store selling gorgeous cute jewellery at amazing prices, currently has a 20% off discount code courtesy of my beauuutiful friend Jools. Just enter FOSHOOZELY in the discount code box before hitting the checkout. ;D (I know Jools' blog is called Foshoozley, but the discount code has the E and the L the wrong way round.. we found this out the hard way earlier!). Anyway, I ordered these amazing earrings (Which Jools also has.. hah) from there :D can't wait!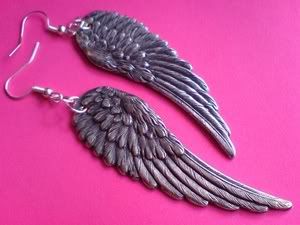 Now I'd like to tell you about the nail polishes I've got on right now – remember those NYX ones I showed you a couple of posts back? Well they're really sheer and take forever to dry so I haven't got the patience to do lots of coats with them. But I found another use! I've been using them over the top of similar coloured polishes from elsewhere. Right now I'm wearing Barry M's nail paint in Pinky Caramel (124), with NYX polish in Natural (43) over it. It was really hard to try and capture the colour accurately, in the picture it looks just a bit off-white but in person its the palest peachy cream with a subtle shimmer. :) And the best bit – it hasn't chipped at all, and I've been wearing it for three days now. My nail polish normally chips within a day.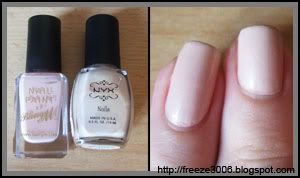 Aaaand last picture for now. Here's my EOTD – I've been avoiding FOTDs lately 'cause I've had a massive breakout and I don't want to put foundation or anything on it, so eyes only right now ;P obviously open eye is in natural light, and closed eye is with flash.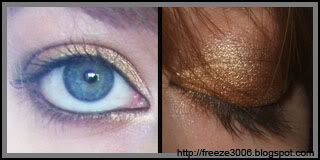 Products Used
:: UDPP (Sin)
:: Illamasqua Liquid Metal (Solstice)
:: Urban Decay eyeshadows in Half Baked (lid), Baked (outer corners), Twice Baked (outer corners, crease and lower lashline)
:: Illmasqua Pure Pigment (Furore)
:: Urban Decay 24/7 Glide On Pencil (Bourbon)
:: Rimmel SpecialEyes Kohl Pencil (Black Magic)
:: 17 Va Va Voom mascara (Black)
Sorry that whole post was super rambly. But I have a lot to be excited about! :D Be excited with me?! xo