In case you hadn't noticed (you'd have to be blind not to), I'm completely revamping my blog. I just feel it's not very personal to me, and especially when you consider how neat and tidy I am the old layout and way I did things was just too messy. For that reason I've found a pretty new template, added little gadgets here and there down the side (probably gonna add more in the near future). I'm also going to devise some new systems for my posts, i.e. specific formats for each kind of post e.g. swatches, more in-depth reviews, FOTDs etc. I also plan to start doing regular 'In and Out' style posts, and possibly an overview of my favourite products each month. And just as a little cherry on top sort of thing, I'm going to add borders and a watermark to all the photos I upload XD just to make it neater. On that note, here's a post I intended to make a week or so ago!
Eyeshadow Bases
I wanted to do a little comparison of the eyeshadow bases I own – I'd just like to clarify I've never tried Too Faced Shadow Insurance or Urban Decay Primer Potion, these are just the alternatives I use. So, here's the four I have (mostly not marketed as eyeshadow bases but that's what I use them for).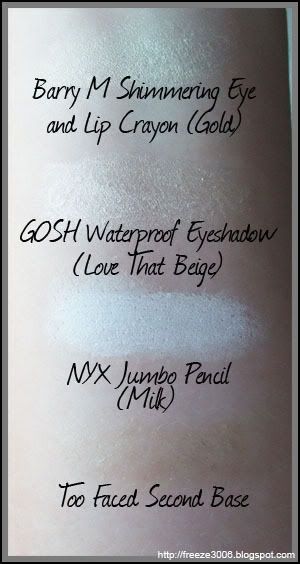 Texture: As you might be able to tell from the swatches above, the Barry M and GOSH products apply very similarly. The only difference is that since the Barry M crayon is in pencil form, I sometimes find I have to warm the tip between my fingers before use to soften it up whereas the GOSH is more or less a stick of solid cream eyeshadow in a plastic tube which keeps it soft all the time. The NYX pencil is much, much creamier and just glides on, although I do really think it needs to be blended in with a finger before any eyeshadow is applied over the top of it. The Too Faced one is the only one that's not in a stick form, it's in an identical pot to my Too Faced eyeshadow duos. I HATE this, it feels so greasy and horrid. I can't even describe it, but you'll see what I mean in the next set of swatches.
Price: The Barry M Shimmering Eye and Lip Crayon is £4.50 on www.barrym.com and in Superdrugs across the UK. I don't think GOSH is available to buy online, but the eyeshadow sticks are about £5.80 in Superdrug. The RRP of NYX jumbo pencils is $3.50 (approx £2) on www.nyxcosmetics.com but I got mine for £2.99 at an independent cosmetic retailer in my local area – might have been a little more for the product but saved on shipping! Too Faced Second Base retails for a ridiculous $15 on www.toofaced.com (approx £9), I got mine from www.magicmakeup.co.uk for £4.89. Thank god I didn't pay the full price for it is all I can say.
Here, I've swatched one of my favourite eyeshadow duos (Lovey Dovey by Too Faced) over the bases. They're all in the same order again from top to bottom.
As before, you can see that the Barry M and GOSH products offer a very similar base to work on. Both help shadows stay on for about 8 hours, prevent creasing (or at least greatly prolong the time that passes before any creasing begins), improve pigmentation of eyeshadows etc. I also find that because these two are a nice pale, shimmery gold colour, they're good to leave untouched under the browbone as a highlight by themselves without adding a light shadow over them. The NYX one however, I'm still on the fence about. I don't know if I'm just not used to the texture of it, but I find it slightly harder to blend over. You might be able to see in the picture that the colours look a little muted when swatched over the NYX pencil compared to the above two, but I put that down to the fact that this particular shadow duo is a shimmer; matte shadows work much better over this. Now seriously, I don't think I really need to say anything about Too Faced Second Base. EWW! Just look at the swatch. I'm glad I did it with my finger otherwise I would have clogged my brush up with grease and urrghh it's horrid. I really don't understand why they still sell it, especially when you consider the fact that Too Faced Shadow Insurance is one of the biggest cult products in the beauty community. It's a shame really, because I love Too Faced shadows so much, I just wish this was amazing quality too. Admittedly I could have just been unfortunate and received a dodgy one, but something tells me it's just a horrible base. Ah well, you win some, you lose some right? At least I didn't pay much for it.
Verdict: I would go so far as to say the Barry M Shimmering Eye and Lip Crayon and the GOSH Waterproof Eyeshadow are almost identical. The price differs a little, the packaging differs a lot, but they both offer very similar features and are a perfect base for shimmery shadows. If you wanted to try something like this, I'd say go for the Barry M one first as it's a little cheaper although you might have to warm the tip up between your fingers before use in the colder parts of the year. The NYX pencil is much creamier and doesn't work quite so well with shimmery shadows but is excellent under matte shadows. As for Too Faced Second Base – AVOID AT ALL COSTS.
I currently have two packages being shipped to me – one is another brush set from eBay, and the other is a selection of 3 NYX round lipsticks and a MAC pigment sample (gasp, I know!) from www.shopcraze.com – expect reviews on these as soon as I receive them!