So I was out on the jobhunt once again today, and I was in a town I've never really been around before. I wandered into a little shopping hall thing, and I actually nearly screamed out loud with excitement. In one corner was a 'discount cosmetics' area. That's not what got me so excited though – the excitement was when I spotted the stand emblazoned with the logo I have become so familiar with over the internet – NYX! Fuck yeah! :D
Unfortunately I only had about £12 to spare but I managed to get myself a nice little selection of products and once I have some more money, I am DEFINITELY going back there to stock up on NYX stuff. I think 'cause it's a little independent place that's selling it, they must just buy it in bulk from overseas. I've NEVER seen it sold anywhere in the UK before, not even in London. I held myself back and just got one thing from NYX, but promised myself I'll go back there with more money soon.
The one NYX product I got was the Jumbo Pencil in Milk – I've wanted it for AGES and it was only £2.99 – which I actually think is a little more than what it would have been online or in the US but I don't really care right now 'cause I'm so excited to finally have it haha. Ohh its so soft and amazing and OM NOM NOM look at all the creamy goodness!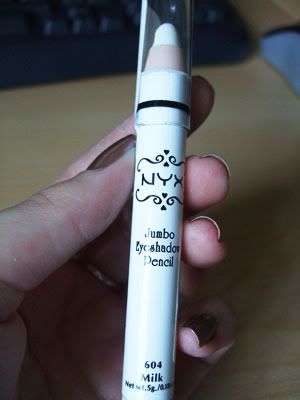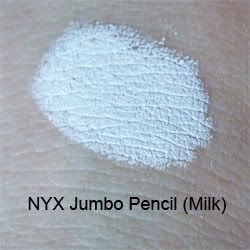 The next little thing I picked up was a gel eyeliner from Go Cosmetics. I'd heard of Go before but haven't seen any swatches or reviews, but I thought I might as well go for it because it was so cheap. I'm pleasantly surprised, actually! I know my lines aren't very even but I was just doing a few quick lines to test it out. ;D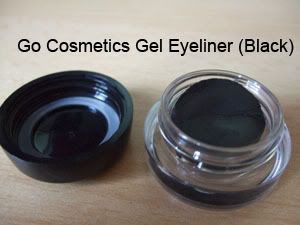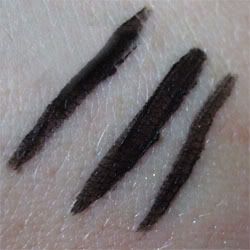 Now, I'm a sucker for cute packaging so I had to have this. It's an eyeshadow quad by Prestige designed like an iPod – and they call it an iQuad! How freaking cute is that? Admittedly they're not the most pigmented shadows in the world but I love the packaging so much!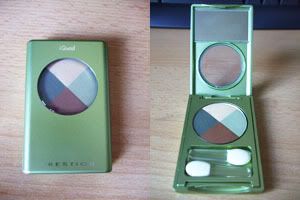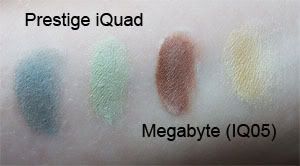 And now we move onto a couple of regular drugstore items, but discounted ;D I love Barry M Nail Paints so I wasn't going to pass up an opportunity to add to my collection. I picked up number 124, 'Pinky Caramel' – it's a BEAUTIFUL colour! I love it so much and I think I might wear it forever and ever. :3 I know my application was a bit messy in this picture but I was so eager to put it on and take a picture, so that's my excuse.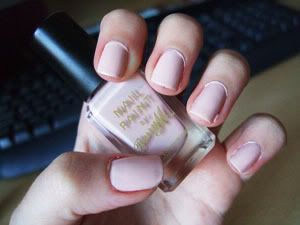 The last thing – A loose eyeshadow from Rimmel (005 Satin) – to be honest I'm not sure what possessed me to pick it up because I HATE this style of packaging – loose shadows with built in applicators because they're always AWFUL to apply with and never pick up enough product. But, in hindsight, I'm really glad I did. It's a lovely colour and I popped into Savers on my way back to the train station to get a few little plastic jars with the intention of depotting the gorgeous shadow from the monstrosity it is encased in. Looking at the original packaging, you wouldn't have thought it held much product at all, but look! I managed to fill up the jar completely (it's actually a pretty big jar), and there's still some left in the original packaging! So I won't be running out of that one anytime soon. :D The last picture is a comparison of how the shadow applies with the crappy sponge tip applicator it came with, versus your generic flat eyeshadow brush. Surprising difference!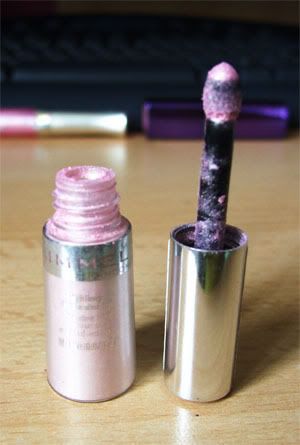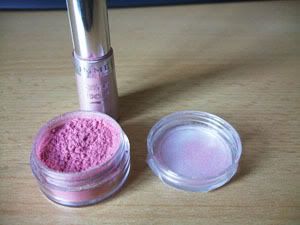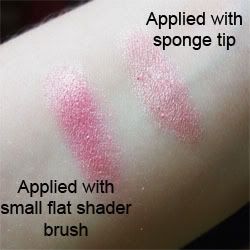 Total spend for today? £11.92 ;D Sweeeeet.