So last week I went to see Derren Brown's show, Enigma, at the Adelphi Theatre. It was absolutely brilliant, but that notwithstanding, I popped into the Superdrug over the road before it started. ;D
I'd heard about the Sleek i-Divine palettes from Sirvinya and Oxford Jasmine and was dying to try them but I hadn't managed to find Sleek in any Superdrugs before. But considering I was at Charing Cross I figured the Superdrug might be big enough to stock it. I was in luck! ;D I picked up the i-Divine palette in Jewels because I was so drawn to the rich, coppery red and gold colours. There's some other colours in there too, but those were the ones that helped me to decide which palette to pick up.
So, I got 12 mineral-based shadows in a gorgeous palette (which is in fact very sleek in it's design!), with a big mirror to top it all off. Very happy with this purchase! Here's the gorgeous packaging.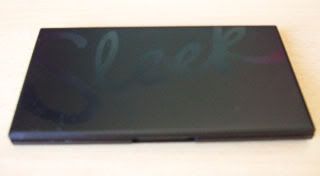 And here's the awesomeness you will find inside! :D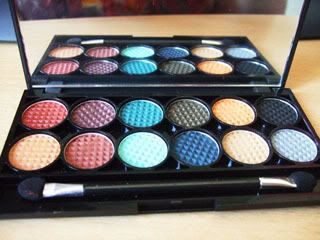 Now, guess how much I paid for this? Nah.. £4.87! Swatches? Yes please!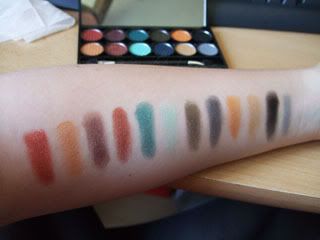 Haha, my arm looks a funny shape. Here's swatches closer up.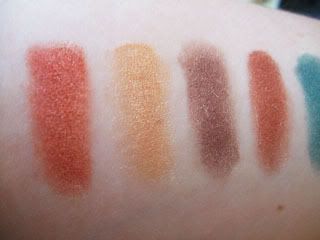 JUST LOOK at those colours. Coppery reds and bronzes and browns and mmm!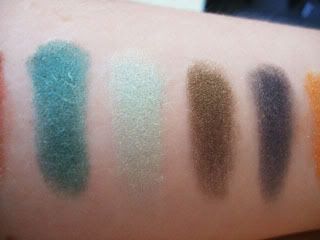 I'm really liking turquisey colours at the moments, and blues and greens which rest on either side of them, so this makes me happy too. And look at the dark mossy green one second from the right! *Squeeee*!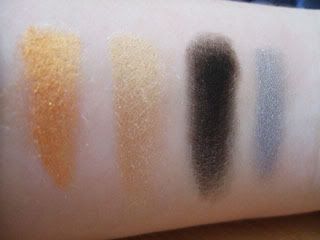 I will admit the gold one on the left here is a little bit dodgy, it's not pressed very well and falls all over the place and doesn't stay on a brush very well. BUT that's a small price to pay for everything else in the palette – I might have just got a dodgy one. But I don't care!
I haven't been this excited about a product in ages. It's just so insanely awesome for the price – I've taken it for a full road test and I can confirm that with some sort of base they last for about 8 hours with minimal creasing or fading. They're mostly pretty shimmery, but I like shimmer at the moment so that's cool with me. There are one or two matte ones but I find that they (particularly the light blue one) are lacking in pigmentation in comparison to the other colours. Because they're mineral based shadows, they're incredibly soft and easy to work with, and they blend just so well. I'll finish this post by leaving you with a look I did using the palette!