I can't wait to tell you about these – I found a wholesale/discount makeup website in the UK called www.magicmakeup.co.uk – some REAL good bargains on there. There was so much I wanted, there's stuff from Urban Decay, Bourjois, Lancome etc etc all at massively discounted prices. I settled on a few Too Faced products – I got one of their eyeshadow bases called Second Base, and a set of 3 eyeshadow duos in Lovey Dovey, Fantasy Island and Poodle Puff.
Now the retail value of Second Base is $15, which is about £9.20. According to magicmakeup, the eyeshadow duos RRP is £10.28. So altogether, the value of the items I got was just over £40 – guess how much I payed for it all, including P&P? £13.00.
Srsly, I'm still spasming with excitement over this XD I'm sure you can't argue that it's amazing value. A lot of the products you find on magicmakeup are 'clearance', which is their term for meaning that they have popular products like Urban Decay cream eyeshadow, but they only tend to have them in the more unpopular shades. But if you look around on a regular basis you're guarateneed to find a bargain on something you love.
I'm seriously pleased with my Too Faced stuff – the base is ood, although it does feel a little on the greasy side. But I absolutely LOVE the shadows.
Second Base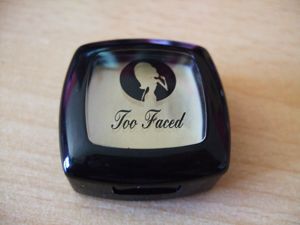 Shadows left to right: Lovey Dovey, Fantasy Island, Poodle Puff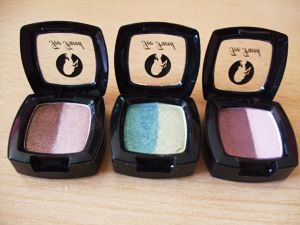 And here's the best part – swatches! In the same order L-R (obviously swatched over Second Base!)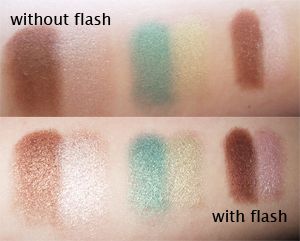 Those swatches really don't do much justice for the pigmentation. You do need to build up a few layers if you want a really intense colour, but I tend to play my eyeshadow colours down a bit on a day to day basis 'cause I don't like going too crazy for college so these are excellent multi-wear shadows. I especially love Lovey Dovey, with the lighter over the lid then the darker colour in the outer corner and blended into the crease (and smudged halfway across my lower lashline), and I often use the lighter colour in Poodle Puff as a brow highlight. So pretty! I haven't actually worn Fantasy Island at all yet.. I'm kinda going off greens at the moment :( but I'll be back on them soon no doubt. Overall I'd say if you want to hunt out a damn good bargain, definitely check out magicmakeup.co.uk!
Also, as I mentioned a couple of posts ago, I got a super cheap brush set off my favourite seller on eBay – glamlabel. This is the seller that I bought my 120 pro palette from a couple of months ago and since I was so pleased with it I thought I'd look through their other items – they have LOTS of false eyelashes and nail art things but I decided I definitely needed some new brushes. I can't remember exactly how much I paid for this set, I think it was about £2.99 (with free P&P from what I remember) but I must say I didn't have very high expectations. But I was actually shocked! I absolutely love the cute, soft brush roll these came in.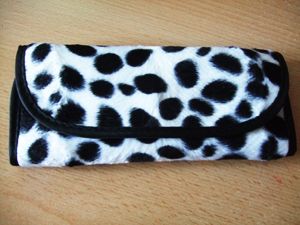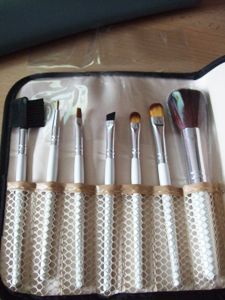 As you can see, from L-R there's a brow/lash comb (I never use these but they come in EVERY set of brushes I've ever seen for sale), a lipliner brush, a lip brush, an angled eye brush, two eyeshadow brushes and a powder/blush brush. I must say, they're really really soft and don't shed at all! But I have thrown away the angle liner brush. I'm really disappointed about that, because the angle liner was the only real reason I bought the set (I really need one). But the bristles are like.. hard plastic. There's no way I'm putting that shit near my eyes, I stroked it across the back of my hand and it actually hurt. D: Other than that though, damn good bargain for the other brushes. ^_^