I'm gonna kick off my stream of updates with my Eyeko goodies :D You can buy everything I show you from www.eyeko.com and you can follow Eyeko on Twitter at www.twitter.com/eyekobeauty (incidentally, my Twitter is www.twitter.com/donotrefreeze)
So on the 23rd of May I went to London MCM Expo because I am a secret nerd ;D and imagine my delight when I pushed my way through a sea of retarded cosplayers and spotted.. A COSMETIC STAND *spasm*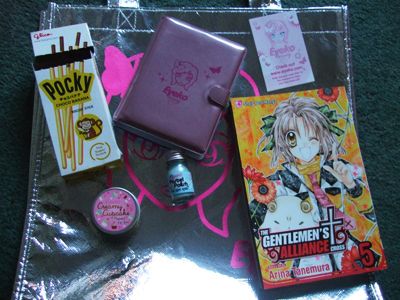 This picture includes pocky and a volume of my favourite manga which I also picked up (guilty pleasures, sorry) but the Eyeko items are the bag, the little pink book-looking thing, the cute nail polish and the round lipgloss tin. So let's go!

This bag is so cute :3 I've been using it almost every day since I got it and unfortunately because of the funny plasticky material of it it's all starting to crack and flake :( overuse sucks but still, cute bag. It retails at £4.00 on their website.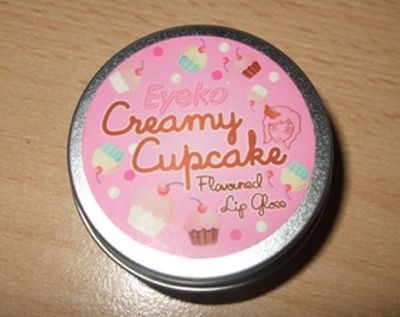 This lipgloss is like an orgasm in a tin. The lid is an absolute wanker to get off, and since it's lipgloss (almost a sparkly lip balm if you ask me) in a tin I'm a little concerned about the hygiene aspect but CHRIST ALIVE IT SMELLS SO GOOD. They call it Creamy Cupcake for a reason – they also have a cherry one and a rose one, the girl at the Eyeko stand politely shoved them all under my nose so I could make an informed choice and srsly, this cupcake one smells SO. GOOD. Anyway, this particular one is a clear gloss with a little sparkle (the rose one is pink and the cherry one is a bit more red). I apply this ALL THE TIME. Under lipstick or over it, because it's more like a balm than a gloss really but I'm just absolutely addicted to the scent. It's all chocolately and vanilla-y and oh my god. I think it retails for £5.00 on their website but some Superdrug stores stock them for like £3.00.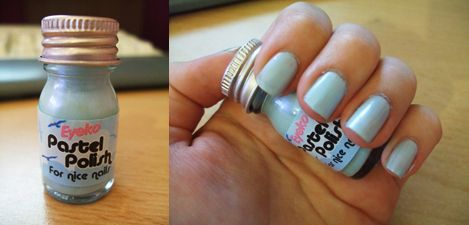 I absolutely LOVE this nail polish. It's called Pastel Polish, they have six different shades all with different names (like they've got a pink one called Pretty Polish and stuff) but as far as I'm aware they're currently developing some more. I was really drawn to this one though – just look at how gorgeous it is! It does need a good few coats to get it really opaque but once you've layered it up (I usually use 3 or 4 coats) and put a clear top coat over it, it will last for a week or so without any chips or anything (provided you don't do anything like gardening but you know what I mean). And I am absolutely in love with the cute little bottle :3 it retails for £4.00 on their website I think, and again it's stocked it some Superdrugs.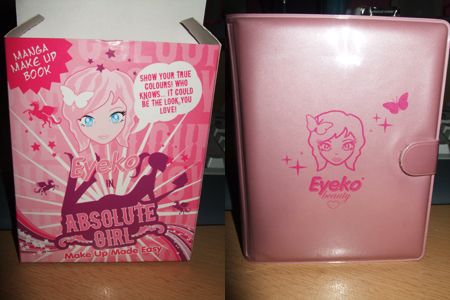 This was probably the most exciting purchase I got – the Manga Makeup Book in Absolute Girl (they have a couple of other books with slightly different colours but this one had 3 pretty neutrals which swayed my decision). Now, this retails for £5.00 on the website which is amazing value for what you get – 5 eyeshadows, 3 lip glosses, a cream blush and a concealer (and the additions of a little mirror built into the compact along with a sponge-tip eyeshadow applicator which I hate but I can't deal with sponge-tips from any brand, and a lipbrush). And the best part is, it's all decent quality! This is what it looks like on the inside (the numbers are for the swatches to follow).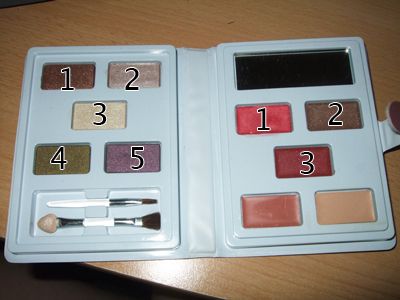 Ohh man I love it. Now, I haven't actually tried the cream blush 'cause I'm really scared of cream blush, people say its foolproof but I can see myself cocking it up so bad. The concealer is okay, but I actually find it works better as an eyeshadow primer than a concealer. The three lipglosses are quite a nice consistency, but the lip brush is a little hard to it's easier to apply these with another lip brush (or your fingers, whatever). Lipgloss swatches!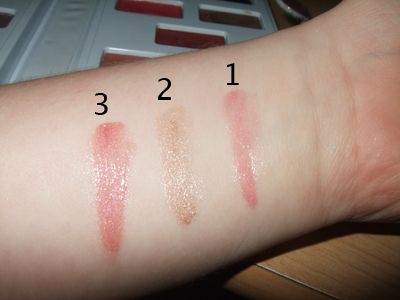 1 and 3 look very different in the palette but wear very similarly, and as you can see 2 looks way too dark but is actually pretty sheer and wearable. These are actually really nice to wear alone if you don't feel like layering them over lipstick. And here comes the most exciting bit – the eyeshadows!


YESSS. HOW pigmented are they? I do have primer on my hand (the concealer from this book, actually), but srsly, look at them. The first three are my favourites, really beautiful and shimmery and the colour can be built up as sheer or as intense as you want, I love neutrals and bronzes and taupes and mmmm :D 4 and 5 are beautiful colours, but not ones that I wear all that often. But still, amazing purchase.
Now… the total of all those items retail value works out at just under £20, guess how much I paid for the lot? £10! :D
Oh and one last thing – whilst I was at Expo, I met Craig Charles! :D This is a srsly awesome thing for me since Red Dwarf has been my favourite TV show since my dad made me watch it at the age of 4. :D Awwwful quality picture I know, but the only picture-taking device I had on me was my ancient phone XD