As I said in my last post, I've been trying out some rainbow things lately. I've only got pictures of two of them, but you get the idea. I'll run through what I used and how I did them. ^_^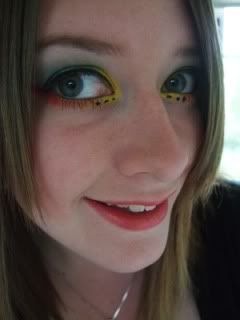 Products
:: Barry M Shimmering Eye and Lip Crayon in 01 Gold
:: 120 pro palette from eBay
:: Collection 2000 Fast Stroke liquid liner in black
:: Rimmel London Special Eyes kohl pencil in 161 Black Magic
:: Rimmel London Sexy Curves mascara in black
:: NYC Ultralast Lipstick in 402B Red Flame
So uhm.. Barry M crayon as an eyeshadow base – I like it 'cause it's creamy and helps the shadow stick and prevents creasing (o rly? So it does what a base is supposed to do), but you've gotta make sure you warm the tip of it up in your fingertips before you use it otherwise you'll end up scraping your eyelid and getting a horrible patchy coverage – even after softening the tip, I always blend it into my eyelid with my finger to avoid lumps. Admittedly a little more hastle than UDPP or TFSI (or Benefit Lemon Aid which I really want to try but it's £15.50 in Debenhams D:), but a good cheap alternative.
Anyway, I started off with the brightest yellow in the pro palette on the inner half of my eyelid, a little past the crease and the inner third of my lower lash line. Then I applied a medium-darkish sort of blue on the outer half of my eyelid and blended it with the yellow to make green in the middle. A little bit of black in the crease added some definition. Theeen, the brightest orange blended with the yellow on the lower lashline, and a bit of red next to that in a big flick. It's a little messy, I know, but I don't actually have a liner brush so whatever. Then the same white I always use in the palette for a brow highlight.
Following that, the basic liquid liner on the upper lashline and kohl pencil on the waterline, mascara blah blah blah. I thought it might look kinda cool with three little black dots under the inner corner of each eye but they're more like dashes because my hand isn't very steady. XD
Okay, next one!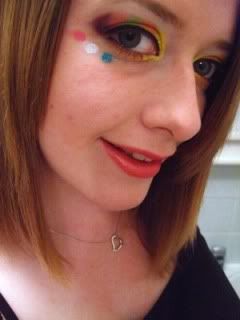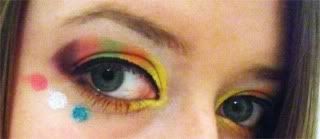 Products
:: Barry M crayon again
:: Pro palette again
:: Same liquid and kohl liners and mascara
:: NYC lipstick in Red Flame again
:: Barry M Dazzle Dust in Pale Silver, Fuschia and Kingfisher (can't remember numbers right now).
Same as before, I applied yellow to the inner corner of my lid and lower lashline over the Barry M crayon, followed by orange on the next little section of my lid and the rest of my lower lashline. Next, a bright green on the lid, and next to that, a bright pink. I realise none of these are blended in very well together, but I don't care. Haha. Then a purple on the outer corner, brought down to meet the orange on the lower lashline. As you can see I went a little higher with each colour to create a bigger almond shape past the crease. Normal liner and mascara again, and the coloured dots under my eye were done with Barry M Dazzle Dusts applied wet with a small brush – I don't have a pencil brush, so I actually used a tiny artists brush (I've got a lot of them from when I did a lot more art – don't worry, I never used that one for paint or anything before).
So yeah, there's my little adventure into rainbow eye looks. Expect more things of this sort coming soon. ^_^;